---
Police say a doomsday prepper who allegedly amassed dozens of guns and 250 kilograms of explosive material at his home on Sydney's outskirts put the community at risk of a "catastrophic event".
Simon Mitchell Clay, 42, was arrested during a raid of his Kurrajong property yesterday morning and charged with a range of weapons offences carrying significant jail time.
Police will allege officers seized a cache of weapons including 40 firearms, seven improvised bombs, silencers, stun guns, detonators, thousands of rounds of ammunition and up to 77 knives.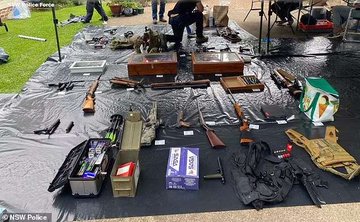 Image: Social Media/NSW Police Force
Read more…
Source: ABC News
---